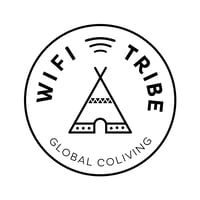 WiFi Tribe Next stop: Canggu, Bali ·
WiFi Tribe
WiFi Tribe

Lisbon, Portugal 🇵🇹
Amenities
Accommodation

Private & Shared rooms

Housing

Apartments

Coworking

Yes
Attendance

13

Capacity

18

Shared room price

$200 / week

or

$800 / month

Private room price

$350 / week

or


$1,400 / month

Minimum stay

2 weeks
Description
OUR HOME IN PORTUGAL
The last chapter of our European adventure this year takes us to Lisbon, the charming city of the 7 hills. We chose Avenida da Liberdade, for the great location, right in the heart of the city center. We will have space for 15 awesome people, staying in 2 spacious, high-quality apartments. They come equipped with good internet, plenty of space for work and play, and a setup that will make you feel comfortable and productive.
**
ADVENTURES + THINGS TO DO IN PORTUGAL**
Portugal - the lovely european country of cinematic hills, colorful tiles, vibrant energy and warm-hearted people. A delight to everyone who visits it. Once you leave, you'll be left with saudades!
CAN'T GET ENOUGH OF IT!
From the charming narrow streets to get lost in, to the museums and Miradouros to explore, to the exquisite food and great wine, to the castle peeking up on top of the hill, to the beautiful Tagus River, to the live fado or to the sprawling outdoor party in Bairro Alto - Lisbon has some of the most unforgettable experiences to offer.
**
THE MYSTIC VILLAGE OF ENCHANTING CASTLES**
Revisit the past while entering some of Sintra's most enchanting castles. This picturesque village has many well-kept treasures. Surrounded by lush green mountains they are the perfect refuge, attracting many writers and filmmakers looking for inspiration.
NOMADS, CAN'T MISS THIS!
Join us in Lisbon and get the chance to participate in the #1 Networking event for digital nomads, entrepreneurs and remote workers - happening on Sep. 9 - Sep.10. Get inspired and connect with 500 like-minded people at DNX Global
**
TAKE A BREAK – GO CLIFF JUMPING**
Portugal has incredible beaches. Adventure yourself in a hike through Costa Vicentina (St. Vincent Coast) and you'll have the best nature has to offer, beaches to lose sight coming perfectly together with great weather, seafood and amazing landscapes. Whether you want to surf, hike, swim or cliff jump this is the trip to relax and enjoy the beautiful scenery! While in Portugal make sure you'll watch a sunset in Cape Roca the westernmost extent of Europe.
MOUTHWATERING FOOD
Freshly baked bread, olives, cheese, red wine or crisp vinho verde (young wine), chargrilled fish, cataplana (seafood stew), smoked meats – the Portuguese have perfected the art of cooking simple, delicious meals.
**
EUROPES BEST CITY 2017**
The majestic River Douro, food markets, artsy museums, the popular Port Wine, incredible gardens and sky-high miradouros - this city doesn't live overshadowed by the capital, it sure vibrates on its own - welcome to Porto!