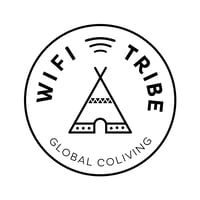 WiFi Tribe Last seen: Publish your listing Portimão, Portugal ·
WiFi Tribe

Lima, Peru 🏄🇵🇪
Amenities
Accommodation

Private & Shared rooms

Housing

Apartments

Coworking

Yes
Attendance

15

Capacity

20

Shared room price

$200 / week

or

$800 / month

Private room price

$350 / week

or


$1,400 / month

Minimum stay

2 weeks
Description
OUR HOME IN PERU
The next chapter of our South American adventure takes us to Lima, a bustling metropolis located between the ocean and the mountains. We chose the upmarket area of Miraflores, because of its proximity to cafes, restaurants, cultural institutions, and nightlife.
In Lima, we have space for 15 awesome people, staying in three spacious, high-quality apartments. They come equipped with good internet, plenty of space for work and play, and a setup that will make you feel comfortable and productive.
Bonus: we have access to a rooftop pool overlooking the city and a gym in the building!
ADVENTURES + THINGS TO DO IN PERU
From lush jungle to coastal desert, and the towering peaks of the Andes that lie in-between, Peru's breathtaking landscapes are as diverse as the people that come from around the world to see them. No wonder this was one of the centre points of the ancient Inca kingdom.
THE LOST CITY OF THE INCAS
For many, Machu Picchu, one of the Seven Wonders of the New World, is reason enough to jump on a flight Peru-bound. The ruins, high up in the Andes mountains, are regularly obscured by cloud cover, which adds to the magical mystery of the ancient Incan architectural wonder.
A FOODIE'S DREAM
Peru has been awarded the World's Leading Culinary Destination for the past 4 years. Ceviche, for example, is a mouth-watering recipe of raw fish marinated in citrus juice and spiced with chilli peppers. But if you're not a seafoodie, don't worry, there's much more than just seafood on the menu. Of course, you may also know Peru for its Pisco Sours, a cocktail best served cold… and in Peru!
THE MOUTH OF THE AMAZON
Somewhere deep in the Peruvian jungle, there is a a city at the mouth of the great Amazon river. The only way to get here is by boat or plane, making it a fantastic place for eco-tourism and authentic jungle expeditions. If you've ever wanted to witness animals in their tropical habitat, the nearly 1000 birds, mammals, fish and reptiles of Peru's national reserve will be here waiting for you and your Instagram.