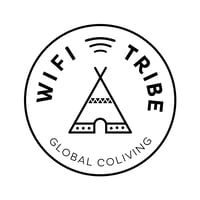 WiFi Tribe Next stop: Canggu, Bali ·
WiFi Tribe
WiFi Tribe

Montañita, Ecuador 🇪🇨
Amenities
Accommodation

Private & Shared rooms

Housing

Apartments

Coworking

Yes
Attendance

15

Capacity

20

Shared room price

$200 / week

or

$800 / month

Private room price

$350 / week

or


$1,400 / month

Minimum stay

2 weeks
Description
OUR HOME IN ECUADOR
This time our Latin American adventure takes us to Ecuador's Santa Elena Peninsula, the mecca for surfing enthusiasts. Our new home will be in Olón, a nice beach town where most expats live and nearby Montañita for nightlife and its variety of restaurant choices.
We will have space for 15 awesome people, staying in a spacious, high-quality house. It comes equipped with good internet, plenty of space for work and play, and a setup that will make you feel comfortable and productive.
ADVENTURES + THINGS TO DO IN ECUADOR
Challenge your limits in one of the world's most untouched places, with a wide range of activities - from diving with seals, white water rafting in the Amazon jungle or mountain biking on Cotopaxi volcano - there's no shortage of things to do in this country!
**RIDE INTO THE SUNSET **
Excellent waves and good tubes will wait for you in Olón. They present a challenge for beginners while still remaining tricky enough for even the most advanced surfers. It has been luring tourists and expats to its golden shores for decades. Now it's time for us to grab a board, jump in the water and master the ocean. You already can rent a board for $4 a day, just saying!
**PARTY LIKE A LOCAL **
After a relaxed day at the beach, walk through Montanitas streets and shores dotted with bars, clubs, and cabanas serving up the local brews. Try the delicious street food, listen to some nice guitar jam and have the best time of your life at a full moon beach party 'til the break of dawn. It's a great city that promotes the idea of tolerance and acceptance; the more different the better.
JOIN AN UNDERWATER SAFARI
Whether you're looking to explore the ocean from the surface or want to immerse yourself in the depths of the pacific, Ecuador has an adventure waiting for you. Dive in one of the richest and most diverse waters of the world. Admire the humpback whales while they`re cruising along the coast of Machalilla, swim with sea lions in the Galapagos, or encounter a school of manta rays, there is always a chance to be amazed.
BIKING OR BATHING ON A VOLCANO? WHY NOT BOTH?
Adventure seekers, you can enjoy biking one of the world's tallest volcanos, Cotopaxi, 4500m above sea level. Or go for a breathtaking swing at the End of the World in Baños. This city is located on the foothills of Tungurahua volcano. While there wander through the beautiful waterfalls, you have more than 60 to explore! Finish this adventurous journey in the best way, by taking a relaxing bath in one of the thermal sanctuaries.