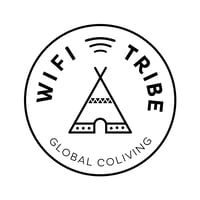 WiFi Tribe Next stop: Publish your listing Canggu, Bali ·
WiFi Tribe
WiFi Tribe

Santa Teresa, Costa Rica 🇨🇷
Amenities
Accommodation

Private & Shared rooms

Housing

Apartments

Coworking

Yes
Attendance

15

Capacity

20

Shared room price

$200 / week

or

$800 / month

Private room price

$350 / week

or


$1,400 / month

Minimum stay

2 weeks
Description
**OUR HOME IN COSTA RICA **
The seventh chapter of our South American adventure takes us to the south of the Nicoya Peninsula. We chose to set our base in Santa Teresa. A beautiful laid-back surfers' beach town, framed by a broad strip of forest which keeps the pristine image of the coastline with its long sweep of white sand beach washed by the pacific surf and backed by jungle covered hills.
We will have space for 20 awesome people, staying in spacious, high-quality apartments. They come equipped with good internet, plenty of space for work and play, and a setup that will make you feel comfortable and productive.
ADVENTURES + THINGS TO DO IN COSTA RICA
Costa Rica is filled with never-ending activities, gorgeous beaches, a plethora of wildlife, yummy food, and super kind and helpful people. Adventure awaits around every corner. We don't even have to go far from where we stay to tick things of our bucket list.
UNSPOILED BEACHES
Playa Santa Teresa and Playa Carmen rank among the most beautiful beaches of Costa Rica and you can make long hikes along the picturesque coastline, bathe in tidal pools or find a nice place under a palm tree for loafing and reading a book. Call it 'Paradise'.
ADD SPICINESS TO YOUR LIFE
Protein, veggies and carbs are very well served in Costa Rica and get often combined in form of a traditional "casado". The local cuisine uses a variety of spices and flavors to excite your mouth and ensure you get the energy and nutrition you need.
WHEN THE SUN GOES DOWN
This tropical paradise has an eclectic choice of bars and nightclubs for you to offer. Once the sun sets in surf town Santa Teresa the party heats up from the beachfront bars to poolside lounges - beautiful people dancing until sunrise on the weekends. Come and join for some live music, cold drinks and tasty treats.
OFF THE BEATEN PATH
Immerse yourself in the sights, sounds, and smells of the Cloud Forest. Located in the Central Highlands amid a volcanic mountain range with lush primary forest, the largely undiscovered Bajos del Toro is a great destination for nature enthusiasts and hikers. Climb a volcano, go horseback riding, river rafting or zip line through the treetops.
**KEEP CALM AND DO YOGA **
Revitalize your spirit in an unforgettable and soul enriching getaway. Surrounded by clean air, flowing ocean waves, large oxygen rich trees and animals, Santa Teresa offers you the perfect environment to reconnect and balance your life.
MEET THE RAINFOREST ANIMALS
Costa Rica has some of the finest and most varied wildlife viewing on the planet: From tracking toucans, great green macaws and jaguars in the rainforest to watching turtles hatch on the beaches by moonlight and of course don't forget the cute sloth.