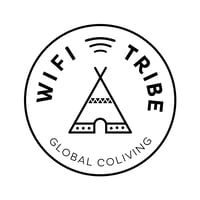 WiFi Tribe Last seen: Publish your listing Portimão, Portugal ·
WiFi Tribe

Canggu, Bali 🏄🇮🇩
Amenities
Accommodation

Private & Shared rooms

Housing

Apartments

Coworking

Yes
Attendance

15

Capacity

20

Shared room price

$200 / week

or

$800 / month

Private room price

$350 / week

or


$1,400 / month

Minimum stay

2 weeks
Description
OUR HOME IN BALI
We are back! The first Asian chapter this year takes us to the epicentre of the remote work movement. For six weeks we are going to enjoy: authentic yoga, green rice fields, healthy & nutritious food, strong surf breaks, stunning beaches and a solid coworking scene. To get the most of all of that, we set our base in Canggu area – surrounded by jungle and rice fields – a short scooter ride from cafés, stores, restaurants and the beach!
We have space for 20 awesome people, staying in two spacious, high-quality villas. They come equipped with good internet, plenty of space for work and play, and a setup that will make you feel comfortable and productive.
How about a morning swim before working from the rooftop while overlooking a jungle and rice field paradise? Make it your daily routine :) There are 10 spacious ensuite bedrooms, an open kitchen, big living rooms and a big garden for work and play!
ADVENTURES & THINGS TO DO IN BALI
Whether you're here for the serenity and relaxation or thrill seeking and adventure, Bali's got you covered!
THE ART OF YOGA
Canggu is home to several yoga studios offering classes in beautiful relaxed surrounds, so there's no need to interrupt your practice while working and traveling. It doesn't matter if you are beginner, intermediate or pro, or you would like to become a yoga teacher - they have all kind of courses for a small amount of money.
WELCOME TO FOOD HEAVEN
Nowhere else you get the chance to eat healthy, locally produced food that easily. Smoothie bowls in the morning, a fresh coconut during the day, balinese tapas like for lunch and a tasty salad for dinner. A big plus, you get a lot of value for your money and eating three times a day will cost you minimum 15 USD.
MOUNT BATUR
Hike the active volcano by night for a spectacular sunrise. experience the stunning mornings views of the surrounding crater and lake and maybe even catch a performance of the Barong and Kris Dance.

GOOD VIBES HAPPEN ON THE TIDES
Blessed with 365 days of swell, damn good weather and pristine warm water temps, the 'Island of the Gods' is a fave surf destination for travelers. Our favorites? The early morning surfs before work, or the sunset sessions to unwind in style!
TIRTA EMPUL TEMPLE
Walking through lush gardens and pathways with moss-covered statues and tropical plants, we'll get to the entrance of the Tirta Empul Temple; the legendary setting of a tale of good vs. evil. The bathing pools are a part of an ancient ritual of purification, which is still practiced today.
THE GILI ISLANDS
They are what most people dream of when they talk about a tropical paradise. Car free, lots of palm trees, beautiful corals and white sandy beaches. A great place for diving, snorkeling, stand up paddeling, Each island has it's own special character. Trawangan is the most cosmopolitan, with a vibrant tropical party scene.