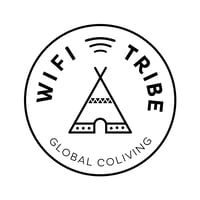 WiFi Tribe Next stop: Publish your listing Canggu, Bali ·
WiFi Tribe
WiFi Tribe

La Paz, Bolivia 🇧🇴
Amenities
Accommodation

Private & Shared rooms

Housing

Apartments

Coworking

Yes
Attendance

15

Capacity

20

Shared room price

$200 / week

or

$1,200 / month

Private room price

$350 / week

or


$2,100 / month

Minimum stay

2 weeks
Description
OUR HOME IN BOLIVIA
The fifth chapter of our South America expedition takes us to La Paz, the highest capital in the world (12,000 ft / 3,600 m).
We have space for 15 people, staying in two spacious villas, just a 3-minute walk apart. They come equipped with plenty of space for work and play, to make us feel comfortable and productive. Our house is located 25 minutes out of the busy city of La Paz, driving further down the valley through the mountains.
We've got a pool table (billiard) and a foosball table for those breaks in between a 'Pomodoro'.
To disconnect from a productive day of work, we recommend a volleyball match, hiking the dramatic landscape, or exploring the city of La Paz.
Our garden offers a lot of space to relax in the sun, play sports, or host big BBQ parties.
There's even a paintball pitch just around the corner, and ATV (quad-bike) rentals 10 minutes away.
ADVENTURES + THINGS TO DO IN BOLIVIA
We love Bolivia because it is still an under-explored country that hasn't been remodelled by tourism. You will get the real experience instead of living in a tourist bubble. Here, authentic culture and raw adventure awaits you…
EXPLORE SALAR DE UNYUNI
The salar is a pure white expanse of the greatest nothing imaginable – just blue sky, white ground and you. It is the worlds largest salt flat you can find and gives you the opportunity to take the most surreal pictures. Definitely one of those adventures you want to tick off your bucket list.
DIVE INTO THE JUNGLE
Jump in a canoe, follow the river and explore animals in their natural habitat. Most of the tours let you swim with river dolphins, catch Piranhas, and search for anacondas.
HIT THE 'DEATH ROAD'
Leave from a high-altitude plain near La Paz, and follow expert guides downhill for 40 miles (64 km) on a narrow, winding road carved into the mountainside. Mountain Biking extreme!
CONQUER MOUNT ILLIMANI
After a drive through green ravines and terraced farmlands, hike Bolivias second highest mountain and enjoy Illimanis imposing triple peak view from the Basecamp.
STROLL THROUGH SUCRE
With it's whitewashed buildings, Sucre is definitely the most beautiful city Bolivia has to offer. It's definitely worth spending a weekend in the country's capital.
**SAIL ON TOP OF THE WORLD **
Let's cruise the world's highest navigable body of water - 12,500 feet above sea level. Pass Inca ruins, trek the lakes island Isla del Sol, set up your tent, enjoy a campfire and the billion star hotel nature has to offer.