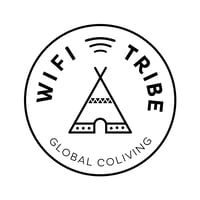 WiFi Tribe Last seen: Publish your listing Portimão, Portugal ·
WiFi Tribe

Chiang Mai, Thailand 🏮🇹🇭
Amenities
Accommodation

Private & Shared rooms

Housing

Apartments

Coworking

Yes
Attendance

15

Capacity

20

Shared room price

$200 / week

or

$800 / month

Private room price

$350 / week

or


$1,400 / month

Minimum stay

2 weeks
Description
OUR HOME IN CHIANG MAI
Welcome to the scenic and colourful Northern part of Thailand. Our last month of the year we are going to spend in the remote workers Hub of Chiang Mai. We will have space for 15 awesome people, staying in spacious, high-quality apartments. They come equipped with good internet, plenty of space for work and play, and a setup that will make you feel comfortable and productive.
ADVENTURES & THINGS TO DO IN NORTHERN THAILAND
There are not a lot of places that can match adventure, natural wonder and history in one city. So much culture in one place, but also so close to the stunning mountains, beautiful rice fields and lush jungle. We can't wait to go and explore Chiang Mai with our Tribe
EXPLORE OLD CITY
Get a feel for Chiang Mai's charm take a walk through historical centre that contains much of what makes the city such a popular place to visit: Tree lined avenues, excellent museums, an artistic vibe and stunning temples at every turn.
BEST COFFEE CULTURE
One reason why we love this city so much are all the beautiful little cafés with garden settings, where you can sip on your organic coffee or Thai iced teas and watch the world go by.
TAKE A MARKET STROLL
Or the fact that there are countless food stalls and markets, to make all of your wildest culinary dreams come true.

ELEPHANT NATURE PARK
Leave the buzz of the city and enter the super lush, misty, gorgeous area outside of Chiang Mai. No elephant riding, painting or tricks here, but you can guarantee that the elephants are well cared for and you'll have an amazing time at their park. Believe us it's still so much fun to feed and bath with the elephants and observe them in their natural habitat.
IN LOVE WITH THE STICKY WATERFALLS
Do you like waterfalls as much as we do? Then you'll really enjoy this one as well. It's not just super beautiful, thanks to the special limestone you can climb up the whole waterfall, all four levels, without slipping. The stones are "sticky" enough to do it.
DISCOVER YOUR WILD SIDE
There is no way you are going to leave Chiang Man without spending a day in the jungle. Go for an organised trekking tour through rice paddies and the lush jungle, meet local villagers and learn about their lifestyle, swim under a waterfall, bamboo raft down a river and sing and dance around a campfire while our guide plays the guitar.
FLIGHT OF THE GIBBON
Zipline through the jungle to a total of 30 stations! The journey extends over 5km and also boasts the longest 'single flight' zip line in Asia (800m). You will face your fears, and a handful of exotic primates, as you make your way down from the 50m treetops.
DOI ITHANON
That's the name of the highest peak in Thailand and a two hours drive from Chiang Mai. We definitely should come here to watch the sunrise from the top of the mountain.