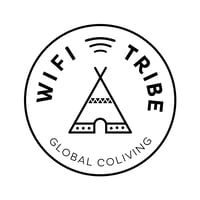 WiFi Tribe Last seen: Publish your listing Portimão, Portugal ·
WiFi Tribe

Barcelona, Spain 💃🇪🇸
Amenities
Accommodation

Private & Shared rooms

Housing

Apartments

Coworking

Yes
Attendance

15

Capacity

20

Shared room price

$200 / week

or

$800 / month

Private room price

$350 / week

or


$1,400 / month

Minimum stay

2 weeks
Description
OUR HOME IN BARCELONA
Dive with us into the beachside city's bustling art scene and bohemian vibe and experience a chapter under the Iberian sun in Barcelona. We will have space for 18 awesome people, staying in spacious, high-quality apartments. They come equipped with good internet, plenty of space for work and play, and a setup that will make you feel comfortable and productive.
Here you can see a collection of previous spaces where we stayed before to give you a general idea of quality.
As soon as our new home in Barcelona is confirmed we will update the photos.
ADVENTURES + THINGS TO DO IN BARCELONA
Barcelona has an electricity that just motivates your body to go and explore. It impresses with it's breathtaking architecture, mouthwatering food, eclectic nightlife, world-class dining and drinking and gorgeous beaches. There is so much more to discover!
UNDER THE IBERIAN SUN
Soak up some Mediterranean rays and test your skills at creating sand castles at Platja de Barceloneta. For a little grub, make sure to visit one of the seafood restaurants just off the front and away from the 'tourist traps'.
GET YOUR GAUDí FIX
If anyone is responsible for shaping the beautifully designed facades of Barcelona, it's Spain's most revered architect, Antoni Gaudí. He created an architectural fairytale with stunning pieces like the cathedral La Sagrada Familia or the Park Güell.
STROLL AROUND LA RAMBLA
Orientate yourself among the crowds and take a leisurely stroll down this main street. Most important! Visit Barcelona's most famous market Mercat de la Boqueria. It's a paradise of colors, sounds and smells and you should try to absorb as many impressions as you can of the rainbow array of smoothies and fresh fruit.
PAELLA, TAPAS & SANGRIA
Enjoy the creative food scene by ordering plenty of tapas and wash them down with a cool glass of a fruity Sangria, Spain's answer to a summer drink.
GO LOCAL, GO GÒTIC
Allow yourself to get lost in one of the cities oldest areas, the Barri Gòtic. Stumble upon old buildings, plazas and stroll trough it's windy streets and historic buildings.
TWENTY-FOUR-HOUR-PARTY-PEOPLE
The night holds limitless possibilities in Barcelona. Start with sunset drinks from a panoramic terrace, dig your heels in the sand at a rustic beachside chiringuito, listen to the rapid-fire rhythms of flamenco, brassy jazz spilling out of basements, and hands-in-the-air indie-rock at vintage concert halls.
Towards midnight the bars fill. Take your pick from old-school taverns adorned with 19th-century murals, plush lounges in lamp-lit medieval chambers or boisterous cava bars. If you're still standing at 3am, hit the clubs and explore Barcelona's unabashed wild side.
MAGICAL MONTSERRAT
What about a day trip to Montserrat? After a one-hour train ride you reach a beautiful natural park area where you find with it's stunning monastery, hidden peacefully at the top of the mountains. Unusual rock formations and incredible architecture are waiting for you.