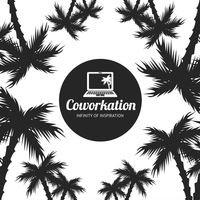 Coworkation Last seen: Publish your listing Barcelona, Spain
Coworkation

Thailand, Thailand 🇹🇭
Amenities
Accommodation

Shared rooms

Coworking

Yes
Description
LOCATIONS:
We will be coworking and learning together in a number of stunning, inspirational and unique locations. Each space will enable deeper integration of the workshops and activities being presented.
We kick-off our Coworkation just 10 days after Thai New Year. The Songkran celebration is well known for its huge water fights which take place on the main roads of all the big cities. Celebrants, young and old, participate in this tradition as major roads are closed for traffic and used as arenas for these massive water fights.
Definitely recommended if you decide to travel a bit before joining our 7 day Coworkation!
Koh Lanta:
The first part of the Coworkation will be held in Koh Lanta. Koh Lanta is an island in the Andaman Sea, south of Thailand. Like many of the destinations in the Krabi province, Koh Lanta is known and popular for its snorkeling and diving possibilities and of course, the long white sand beaches.
This part of the coworkation includes a 3 night stay in a luxury resort, located in the centre of Koh Lanta Yai. A healthy breakfast will be provided every morning and of course there will be plenty of time to have refreshing swim in the pool or sea.
Koh Lanta is also the base of the popular coworking space Koh Hub, where we will do most of our workshops, talks and coworking.
Taking the opportunity of being surrounded by beautiful nature, we will rent a private boat to take you on a stunning trip to all the idyllic little islands that surround Koh Lanta. Make sure to pack your swimwear so you can jump off the boat and get inspired by the underwater world. We will visit several islands, including the Emerald Cave, Seagull Island and of course Koh Kradan known for its coral reef on the beach and the perfect snorkeling conditions.
Koh Lanta is the perfect place to reconnect with nature. Go for long hikes to waterfalls, caves, the stunning national park, or join Trash Hero for a beach clean-up!
Railay Beach:
For the second part of our coworkation, we move to Railay Beach. Railay is a small peninsula in the province of Krabi in the south of Thailand. The area is famous for diving and rock climbing and only accessible by boat, as huge limestone rock formations cut off any mainland access. These limestone cliffs make for a truly impressive and mysterious feel to the island and it's definitely one of the most beautiful locations Coworkation has been.
Since Railay is quite small, everything on the peninsula is easily accessible by foot. Our luxurious accommodation is located directly on the beach, so each morning you can enjoy your fresh, healthy breakfast overlooking the sea and the mountains. The mesmerising views and myriad physical activities (hiking, rock climbing, kayaking) make Railay the perfect environment to get recharged, creative and productive.
Railay itself is only a 10 minute boat ride away from the mainland, where the cozy, comfy coworking space Phansa is located, in Ao Nang. With their high-speed internet and beautiful outdoor terrace, Phansa ticks all the right boxes.
PROGRAM:
Our Thailand Coworkation program focuses on Personal Branding, and as always our approach is holistic, using personal development to encourage professional growth. Our facilitators methodically work you through a process to identify how your unique and authentic voice can propel your business or project forward.
We also make sure you have enough free time to enjoy and explore on your own, and provide all the best tips and recommendations to get you going. All the workshops and activities are optional, so if you don't feel like getting up for our daily yoga and meditation sessions, sleep in! Of if you feel like spending more time with your thoughts, go and take a nice long walk by yourself. Tailor the program any way you want! At Coworkation, we believe that creativity and inspiration come from within, and we provide you with all the right tools and the optimum environment.
Step out of your day-to-day environment and into an inspirational setting to look at their business/work from another perspective. A coworkation encourages personal and professional growth through activities, talks and workshops on these core themes:
-Big picture for business: Vision, strategy, planning, & leadership, purpose.
-Lifestyle design: tangible skills for designing the life you want to live.
-Personal growth for Professional success: integration, productivity, psychological & cognitive elements, creativity and inspiration, mindfulness.
Our programming offers fun, applicable exercises, empowering & inspirational experiences. We contribute in practical, meaningful ways to the environment and/or cultures we visit, and offer immersive experiences that:
-Maximise the enjoyment and fluidity of your work/life.
-Encourage responsible and meaningful engagement of the location independent lifestyle.
-Access your creative and inspirational potential.
-Experience the impact that health and wellbeing has on your professional behaviour, and learn how to keep it up.
Our programming points of difference:
-The link between personal growth and professional success as a holistic endeavour (Physical, Emotional, Environmental, Intellectual).
-Our take on lifestyle design: Advocating strong values in business and life. Location independent professionals have the freedom to create a personal and professional framework for themselves that focuses on integrity, human-centred interactions, and sustainability as motivators and business aspirations.
-Topics covered are relevant to, entrepreneurs, business leaders, changemakers, influencers, visionaries, freelancers and business owners to name a few.
-Our use of the inherent qualities of the locations we visit (physical, emotional, spiritual and symbolic) during our activities to allow for a deeper integration of the lessons provided.
TRIP INCLUDES
-Accommodation in single, double, or twin rooms, serviced daily.
-All breakfasts.
-Daily excursions and activities in local surrounds, both natural and cultural.
-Coworking passes.
-Guided morning yoga and meditation.
EXCLUDES:
-Flights & transport.
-Lunches & dinners.
-Workshops.
PRICE:
Book before 30th November- US$60 pp/pn
-Prices based on twin share occupancy.*
-US$30 extra pp/pd for lunches and workshops.
Pricing is based on twin share rooms. Travelling alone? We can either pair you up with somebody of the same sex in a spacious twin-share room OR pay a surcharge for your private individual room.
2018
🇨🇫 Sierra Leone, Central African Republic
Advertise here 💡️
Do you operate a coliving or coworking space, or sell products aimed at nomads? Advertise here for as little as $100/month.
Advertise here
2017
Advertise here 💡️
Do you operate a coliving or coworking space, or sell products aimed at nomads? Advertise here for as little as $100/month.
Advertise here
Claim this listing
Own or manage this coworkation? Claim your listing to update your profile, manage your trips and respond to your reviews.
Claim your listing