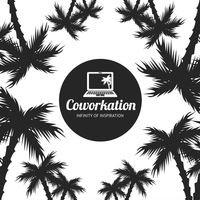 Coworkation Last seen: Publish your listing Barcelona, Spain
Coworkation
This page is archived and no longer updated: Coworkation have either closed down or stopped traveling
Coworkation

Bali, Indonesia 🏝🇮🇩
Amenities
Accommodation

Private & Shared rooms

Coworking

Yes

Talks

Yes

Workshops

Yes
Shared room price

$544 / week

or

$2,176 / month*

Private room price

$653 / week

or


$2,611 / month*
Description
BALI, THE LAND OF THE GODS!
INJECTION OF INSPIRATION!
The fusion of working from breathtaking locations, connecting with driven & passionate people, whilst learning from expert facilitators come together to bring your work and life to the next level!
————
Lush terraced rice fields, looming volcanoes, and fantastic beaches combined with amazingly friendly people and a unique culture that celebrates colourful ceremonies on a regular basis, makes Bali a perfect location for a coworkation! This magical destination exudes peace and serenity and is a perfect place to get into a state of flow and will fill you with inspiration
IS THE BALI COWORKATION FOR ME?
Our Bali coworkation is designed for those who are searching for some extra inspiration. Our Bali coworkation is for you if you are:
– A self-employed entrepreneur searching for ways to take your business to the next level!
– A business manager or employee looking to get away from your routine environment to find headspace, clarity, creativity and inspiration.
– Looking for a career shift…breaking out of your current 9-5 job and want to explore how you can become location independent and lead a life of freedom!
– A digital nomad in SE Asia and you want a new experience that will be the highlight of your time in the region!
– or maybe you're simply wanting to enjoy life, working from some of the most beautiful locations imaginable, whilst connecting with some incredibly driven and passionate people.
Host

Stuart Jones
Coworkation CEO
Claim this listing
Own or manage this coworkation? Claim your listing to update your profile, manage your trips and respond to your reviews.
Claim your listing