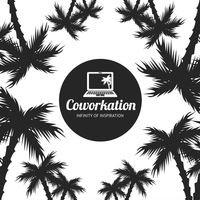 Coworkation Last seen: Publish your listing Barcelona, Spain
Coworkation

Barcelona, Spain 💃🇪🇸
Amenities
Accommodation

Shared rooms

Coworking

Yes
Description
** English below
Tenemos más libertad para poder trabajar desde cualquier lugar hoy en dia. Sin embargo, estamos realmente aprovechando esta increíble oportunidad que tenemos? ¿Con qué frecuencia tomamos un descanso de nuestra rutina diaria? ¿Nos alejamos de nuestro ambiente de trabajo habitual y vamos a trabajar en la naturaleza? ¿Buscamos activamente lugares para trabajar que nos inspiran? ¡Por eso hemos creado el primer "Centro de Innovación en el Lugar de Trabajo" de Catalunya!
We have more freedom to be able to work from anywhere these days. However, are we really taking advantage of this amazing opportunity that we now have? How often do we take a break from our day-to-day routine? Do we get away from our usual work environment and go work in nature? Do we actively seek places to work from that inspire us? Well, that is why we have created the Catalunya Workplace Innovation Hub!
NUESTRO CENTRO DE INNOVACIÓN:
El centro está diseñado para inspirar. Un lugar desde donde trabajar. Para conectar. Crear. Y para innovar.
Un lujoso monasterio del siglo XIII, a sólo 90 minutos de Barcelona. No se ve ninguna otra casa. Sólo vistas del parque natural del Montseny.
Alojamiento para 25 personas
Cocina
Área de Coworking
Zona de meditación / yoga
Zona de relajación
Hamacas
Sala para conferencias y eventos (200 personas sentadas)
Y la más increíble piscina!
OUR INNOVATION HUB:
The Catalunya Workplace Hub is designed to inspire. A place from which to work. To connect. To create. And to innovate.
A luxuriously renovated 13th century monastery, just 90 minutes from Barcelona. Not another house to be seen. Only views of the Montseny natural park.
Accommodation for 25 people
Kitchen
Coworking area
Meditation/yoga zone
Chill out area
Hammocks
Hall for conferences & events (200 people seated)
and the most incredible INFINITY SWIMMING POOL!
PROGRAMA SEMANA ABIERTA
- Discusiones sobre el futuro del trabajo, el "Movimiento de Deslocalizacion de la Oficina", y el espíritu emprendedor.
- Oradores, innovadores, que se conectan con empresarios, autonomos, fundadores y ejecutivos.
- Yoga y meditación
- Desarrollo personal para el crecimiento profesional. Examinamos la psicología y cómo crear estados mentales para optimizar nuestra producción.
- Comidas saludables y nutritivas. Mientras que también examinamos el efecto que la dieta tiene en la manera que trabajamos.
- Talleres de negocios: dar un paso atrás para ver los grandes problemas de imagen en nuestros negocios y carreras … estrategia, planificación, visión, branding y más.
- cervezas junto a la piscina, vino y cócteles!
- ¡Fiesta de inauguración!
OPEN WEEK PROGRAM
- Discussions on the Future of Work, The Location Independence Movement and entrepreneurship.
- Speakers, influencers, innovators, movers & shakers connecting together with entrepreneurs, freelancers, startup founders, CEO's and managers.
- Yoga, meditation and mindfulness
- Personal development for professional growth. We look at psychology and how to create mental states to optimise our output.
- Healthy nutritious meals. Whilst also examining the effect that diet has on the way we work.
- Business workshops: take a back step to look at the big picture issues of our business and careers…strategy, planning, vision, branding and more.
- Poolside beers, wine and cocktails!
- Inauguration party!
50% DE DESCUENTO
55€/dia incluye:
- Alojamiento
- Todas las comidas
- Meditación y yoga
- Talleres
¡El descuento se aplica por un corto período de tiempo
Plazas limitadas
Minimo 2 noches
50% OFF STANDARD RATES
55 euros includes:
- Accommodation
- All Meals
- Meditation and yoga
- Workshops
Discount applies for a short time only!
Spots limited
Minimum 2 nights
ES LA HORA DE CAMBIAR LA MANERA EN QUE TRABAJAMOS.
Es tiempo de encontrar inspiración.
La inspiración conduce a la innovación.
IT'S TIME TO CHANGE THE WAY WE WORK.
It's time to find inspiration.
Inspiration leads to innovation..
2018
🇨🇫 Sierra Leone, Central African Republic
Advertise here 💡️
Do you operate a coliving or coworking space, or sell products aimed at nomads? Advertise here for as little as $100/month.
Advertise here
2017
Advertise here 💡️
Do you operate a coliving or coworking space, or sell products aimed at nomads? Advertise here for as little as $100/month.
Advertise here
Claim this listing
Own or manage this coworkation? Claim your listing to update your profile, manage your trips and respond to your reviews.
Claim your listing