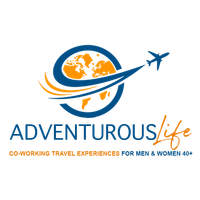 Adventurous Life Last seen: Publish your listing Barcelona, Spain
Adventurous Life

Barcelona, Spain 💃🇪🇸
Amenities
Accommodation

Private rooms

Coworking

Yes

Talks

Yes

Workshops

Yes
Price

$999 / week*

or


$3,997 / month

Minimum stay

2 weeks
Description
The cosmopolitan city of Barcelona has a buzz that's unique in all of Europe. Outside of possibly Berlin, there's no bigger mecca for start-ups and innovative new businesses than in Barcelona. Perhaps that's why it has such a huge number of coworking spaces throughout the city (120 at last count!).
The innovation isn't exclusive to the start-up community. Architecture gives us Gaudi and his fantastical Sagrada Familia church and other creative and colorful landmarks. Art gives us the museums dedicated to Picasso and Miró. Every field, from finance to music can thank this magical city!
Barcelona's buzz also comes from its sunny weather, its proximity along the sea, its ubiquitous sidewalk cafes. It comes from its meandering "ramblas"—long walking promenade paths throughout the city. It comes from its eclectic mix of very old (Roman archaeological sites) and very new (Torre Glòries skyscraper). Oh, and the food!
Our co-working space, Aticco, is one of the best in the city, with the added bonus of a rooftop social and work space with killer views of the whole city. We're very excited to be partnering with them and living like a local in the heart of this vibrant city!
If you want to join us in Barcelona, we recommend getting your application in ASAP, as this is proving to be one of our most requested destinations!
2019
Advertise here 💡️
Do you operate a coliving or coworking space, or sell products aimed at nomads? Advertise here for as little as $100/month.
Advertise here
Claim this listing
Own or manage this coworkation? Claim your listing to update your profile, manage your trips and respond to your reviews.
Claim your listing