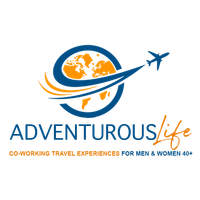 Adventurous Life Last seen: Publish your listing Barcelona, Spain
Adventurous Life
Amenities
Accommodation

Private rooms

Coworking

Yes

Talks

Yes

Workshops

Yes
Price

$999 / week*

or


$3,997 / month

Minimum stay

2 weeks
Description
No More Waiting. Your Time Is Now!
With Adventurous Life, you'll live like a local
in enchanting destinations,
get your work done in innovative settings
with interesting people,
and have an adventure now—
not when you retire, not "someday." NOW!
Spend a month with us and take a deep dive into a different culture. Work and play alongside like-minded peers. Exchange ideas within the group and enrich your work with new perspectives.
Adventurous Life gathers a global community of online entrepreneurs, creatives, professionals, and people working on passion projects who are:
Curious about the world and eager to experience it in a new, exciting way
Passionate about their work and excited to do it in an inspiring, innovative, international atmosphere
Hungry for change and to expand their horizons through unforgettable travel experiences
Happy to connect with like-minded peers rather than travel alone
2019
Advertise here 💡️
Do you operate a coliving or coworking space, or sell products aimed at nomads? Advertise here for as little as $100/month.
Advertise here
Claim this listing
Own or manage this coworkation? Claim your listing to update your profile, manage your trips and respond to your reviews.
Claim your listing