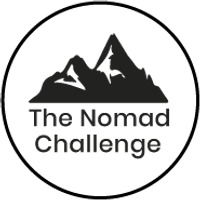 TheNomadChallenge Last seen: Publish your listing Quito, Ecuador
TheNomadChallenge
This page is archived and no longer updated: TheNomadChallenge have either closed down or stopped traveling
TheNomadChallenge

Medellín, Colombia 🇨🇴
Amenities
Accommodation

Private rooms

Coworking

Yes

SIM card

Yes

Talks

Yes

Workshops

Yes
Attendance

10

Capacity

15

Down payment

$300

Price

$500 / week

or


$1,850 / month

Minimum stay

2 weeks
Team

JD
uan Diego Vásconez - Ingeniero Mecánico Aeroespacial con una maestría en Dirección estratégica de Operaciones e Innovación. 3 años de experiencia en el área de turismo con empresas internacionales como integrador de servicios y embajador local. 2 años de experiencia en gestión empresarial, optimización de operaciones, logística, desarrollo de nuevos negocios y consultoría para empresas. Habilidades de marketing digital, desarrollo web, inbound marketing, supply chain management, estrategia empresarial. Juan Diego practica deportes de aventura como Kayak, montaña, escalada en Roca, ciclismo y orientación. Idiomas: Español (nativo), Inglés (avanzado profesional), Portugués (Intermedio B2), alemán (intermedio B1).
Trabaja remotamente para una fundación que brinda movilidad a pacientes amputados de escasos recursos.

Martin
Martín Andrés Tapia – Ingeniero en Salud y Seguridad Ocupacional con certificaciones en primeros auxilios, seguridad de trabajo en altura, gestión de calidad, pedagogía. 8 años de experiencia en el campo laboral como técnico en prevención de riesgos laborales, manejo de grupos, entrenamiento y capacitaciones. Aficionado de la escalada en roca, deportes de aventura y actividades al aire libre. Idiomas: Español (nativo), inglés (avanzado profesional), portugués.
Trabaja para un medio de comunicación importante de Ecuador.
2019
Advertise here 💡️
Do you operate a coliving or coworking space, or sell products aimed at nomads? Advertise here for as little as $100/month.
Advertise here
Claim this listing
Own or manage this coworkation? Claim your listing to update your profile, manage your trips and respond to your reviews.
Claim your listing