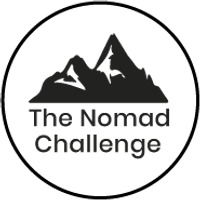 TheNomadChallenge Last seen: Publish your listing Quito, Ecuador
TheNomadChallenge
This page is archived and no longer updated: TheNomadChallenge have either closed down or stopped traveling
Amenities
Accommodation

Private rooms

Coworking

Yes

SIM card

Yes

Talks

Yes

Workshops

Yes
Attendance

10

Capacity

15

Down payment

$300

Price

$500 / week

or


$1,850 / month

Minimum stay

2 weeks
Description
The Nomad Challenge is a coliving & adventure experience that offers you the opportunity of being part of a pack of people around the world who love to travel, work remotely and adventure.
Our mission is to empower individuals to live with no limits, find a purpose in life and accomplish personal goals. We guide them into the awakening of their venturesome and unbreakable spirit to achieve any goal, anytime and anywhere.
We offer flexible programs with lengths of 2, 4 and 8 weeks, where we take care of all the logistics of the trip. During this time you will be challenged to get out of your comfort zone with a variety of outdoor, social and professional activities, connect with a global community of explorers and travel around a region.
Our programs are organized in 8-week seasons. Every season we explore a region of a country from South America, travel to different towns, explore outdoor spots and get connected with local entrepreneurs and adventurers.
Team

JD
uan Diego Vásconez - Ingeniero Mecánico Aeroespacial con una maestría en Dirección estratégica de Operaciones e Innovación. 3 años de experiencia en el área de turismo con empresas internacionales como integrador de servicios y embajador local. 2 años de experiencia en gestión empresarial, optimización de operaciones, logística, desarrollo de nuevos negocios y consultoría para empresas. Habilidades de marketing digital, desarrollo web, inbound marketing, supply chain management, estrategia empresarial. Juan Diego practica deportes de aventura como Kayak, montaña, escalada en Roca, ciclismo y orientación. Idiomas: Español (nativo), Inglés (avanzado profesional), Portugués (Intermedio B2), alemán (intermedio B1).
Trabaja remotamente para una fundación que brinda movilidad a pacientes amputados de escasos recursos.

Martin
Martín Andrés Tapia – Ingeniero en Salud y Seguridad Ocupacional con certificaciones en primeros auxilios, seguridad de trabajo en altura, gestión de calidad, pedagogía. 8 años de experiencia en el campo laboral como técnico en prevención de riesgos laborales, manejo de grupos, entrenamiento y capacitaciones. Aficionado de la escalada en roca, deportes de aventura y actividades al aire libre. Idiomas: Español (nativo), inglés (avanzado profesional), portugués.
Trabaja para un medio de comunicación importante de Ecuador.
2019
Advertise here 💡️
Do you operate a coliving or coworking space, or sell products aimed at nomads? Advertise here for as little as $100/month.
Advertise here
Claim this listing
Own or manage this coworkation? Claim your listing to update your profile, manage your trips and respond to your reviews.
Claim your listing