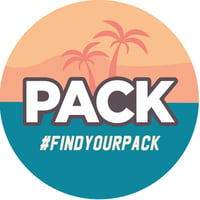 PACK. Last seen: Publish your listing Ubud, Bali ·
PACK.
This page is archived and no longer updated: PACK. have either closed down or stopped traveling
PACK.

Lisbon, Portugal 🇵🇹
Amenities
Accommodation

Private rooms

Housing

Apartments

Coworking

Yes

SIM card

Yes

Talks

Yes

Workshops

Yes
Attendance

20

Capacity

25

Price

$688 / week*

or


$2,750 / month

Minimum stay

4 weeks
Description
Oh, Lisbon. You either love it…or you love it! Portugal's hilly, coastal, shockingly affordable capital city enjoys an average of 253 sunny days a year (more than any other capital city) and boasts an extraordinary work/life balance. Everything is at your fingertips here: fresh seafood, surfing, beaches, ancient architecture, and views for days.
Century-old trams still carry tourists and locals alike up and down the beautiful narrow streets.The smell of the ocean mixes with freshly baked pasteis de nata (custard egg tarts). Cafes, bars, and even Michelin-starred restaurants beckon as you stroll in the sun listening to chatter and local fado music. Bursting with culture, great food, architecture, and inspiring street art, it's a place so beautiful you can't believe people are using it to live in.
Team

Gary Repko
Gary embodies what the PACK. experience is all about. After building a successful sales career, he traded in the corporate life for more: more meaning, more travel, more adventure. He's traveled over 30 countries and has a passion for new people, ideas, and experiences.

Michele DiLisio
Michele has spent the last decade traveling the world and coordinating travel and logistics for thousands of clients. Inspired by her own action-packed work-cations, Michele began PACK. to create full-service, unforgettable group travel experiences so travelers can get the most out of every trip and be productive.
When she's not traveling, Michele can be found in Crossfit class, playing obscure board games, and bestowing her judgment upon new restaurants. She loves kayaking, scuba diving, and trying the most unusual foods everywhere she travels.
2019
Advertise here 💡️
Do you operate a coliving or coworking space, or sell products aimed at nomads? Advertise here for as little as $100/month.
Advertise here
2018
2017
Claim this listing
Own or manage this coworkation? Claim your listing to update your profile, manage your trips and respond to your reviews.
Claim your listing