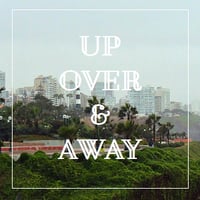 UP OVER AND AWAY Last seen: Publish your listing Lima, Peru
UP OVER AND AWAY
Amenities
Accommodation

Private & Shared rooms

Coworking

Yes

SIM card

Yes

Talks

Yes

Workshops

Yes
Attendance

15

Capacity

20

Price

$700 / week

or


$2,800 / month

Minimum stay

3 weeks
Description
UP OVER AND AWAY is a coworking retreat for anyone who works remotely and wants to get out of their daily routines, explore a new culture & a new country, meet up and connect with like minded individuals, all while still being able to be productive.
You'll have plenty of time throughout the week to work. However, you'll also have plenty of activities, and trips to see the city around you, even explore a bit further away.
Host

UP OVER AND AWAY
2019
2018
Advertise here 💡️
Do you operate a coliving or coworking space, or sell products aimed at nomads? Advertise here for as little as $100/month.
Advertise here
Claim this listing
Own or manage this coworkation? Claim your listing to update your profile, manage your trips and respond to your reviews.
Claim your listing