Social Workation Uganda
This page is archived and no longer updated: Social Workation Uganda have either closed down or stopped traveling
Amenities
Accommodation

Private & Shared rooms

Housing

Hotels

Coworking

Yes
Attendance

10

Capacity

20

Shared room price

$453 / week

or

$1,812 / month

Private room price

$543 / week

or

$2,165 / month

Minimum stay

3 weeks
Description
For Digital Nomads, Entrepreneurs, Artists and Change-makers
3 WEEKS OF A LIFETIME
Reconnect with nature, connect with local communities and make a difference! Uganda has many talented people, learn from each other and grow together. With this trip, you will not only leave Uganda having made an impact on many people's life, but it will also be a positive life changing experience for you.
THE EXPERIENCE
You spend two weeks in buzzling Kampala and one week in Jinja, the adventure town for adrenaline junkies and nature freaks. Our first weekend trip will be OFFLINE camping in Murchison Falls National Park, spotting wild animals and hiking around the waterfall.
Every week we will have two mastermind sessions according to the FLAKS model to which Ugandan entrepreneurs and start-ups are invited for free. Each session will offer you a combination of brainstorming, education, peer accountability and support to sharpen your business and personal skills.
Twice a week we will visit the 22STARS projects in the field and show you how you can make an impact. Besides city tours and fun stuff, you will have free time to get your own work done!
THE IMPACT
With the Workation we support the 22STARS families with food.

We raise money for the 22STARS KIDS foundation for medicine, food, clothes and school fees.

We exchange skills with local entrepreneurs during the mastermind sessions and project visits, to get our businesses to the next level.
WHAT IS INCLUDED
• 21 nights mid-rank accommodation 
• 3 meals a day in various good restaurants
• Airport pickup 
• Contribution in food for the 22STARS families 
• Local sim card with 5 GB internet 
• 3 day trip to Murchison Falls National Park (worth €300!) 
• 6 mastermind sessions and access afterwards to the groups 
• 6 visits to 22STARS projects 
• Free ticket to Digital Nomad Talks 
• City tours in Kampala and Jinja 
• Kayak rental and yoga facilities 
• Sunset cruise 
• AND MUCH MORE FUN THINGS
Help us raising more money by setting up your own
GOFUNDME CAMPAIGN FOR THE 22STARS KIDS
We will send you pictures and texts that you can use to set up your GoFundMe 22STARS Kids page. Ask friends, uncles, aunties, or some other angels in your network to help you. If you would like to come, but have not enough financial means, we can also help you to set up a campaign that will partly support your trip and partly the 22STARS KIDS foundation. Explain us why you need financial support and how you will contribute to our project.  By being selected to our program we are sure that you will make a valid contribution to our project!
A few TRAVEL NOTES
• Arrive the latest on Sunday to Entebbe International Airport
• Make sure that you have all necessary vaccinations and a visa
• We pick you up from the airport 
• Once you arrived in Uganda all lodging and 
• three meals a day will be taken care of until the Workation finishes.
• A three day trip to Murchison Falls National Park is included!
• Not included: visa, flights, mandatory travel insurance, incidentals.
• After your booking is confirmed we will send you a packing list.
MASTERMIND
APPLICATION FORM FOR LOCALS
We organize a 3 week long Workation in March, July, August and October. You can apply for the whole Workation at the top of the page, which includes housing and food against a fixed price. Or, if you are from Uganda, we also offer you to participate free of charge in our mastermind sessions that are held twice a week during the Workations.
The masterminds are held according to the FLAKS model, so besides the Workation participants, we invite Ugandan entrepreneurs and start-ups for free. Each session will offer a combination of brainstorming, education, peer accountability and support to sharpen businesses and personal skills. In addition you will be invited to join us to visit the 22STARS projects in the field and share your skills with the group.
CAN'T JOIN THE UGANDA WORKATION?
NO WORRIES, YOU CAN STILL CONTRIBUTE.
SHOW YOUR SUPPORT BY GOING TO THIS LINK
Host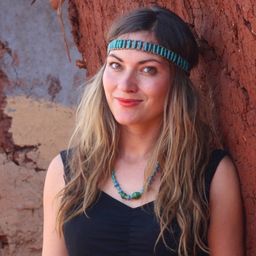 Digital Nomad empowering families in Uganda through fashion and design!
Stella is the founder of 22STARS and wants to inspire others to think about the impact they can make with their business. Stella has a master degree in International Law and Human Rights and Democratization. Her studies brought her to Africa where she interviewed refugees in Kampala, Uganda. Some of these women, mainly widows and HIV positive, made jewelry out of recycled paper. In order to have an impact, Stella started to buy this jewelry to sell it to her friends in the Netherlands. The project evolved: there is now a professional brand, 2 production units and a sponsor project for school fees of the children. Stella started making the designs herself and incorporates elements from different cultures in her collections. When Stella is not in Uganda, she travels the world, alone or with her friends from the digital nomad community.
Claim this listing
Own or manage this retreat? Sign up with a Social Workation Uganda account to claim your listing, manage your trips and respond to your reviews.
Claim your listing